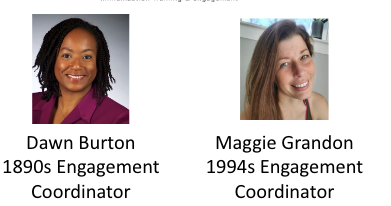 We're excited to share a new podcast episode about the important work of the Extension Collaboration on Immunization Teaching & Engagement (EXCITE) program.
EXCITE is creating a framework that will model new ways for the Cooperative Extension system to engage and reach Extension programs across all three regions. The EXCITE team has developed practices to ensure that under-represented regions are included in the design of the new system-wide effort and that their institutions will be supported along the way. One way that representation has been incorporated in the design was to appoint two engagement coordinators to the National Program team to be the touchpoints for 1890, the Historically Black Universities, and the 1994 Tribal institutions.
Dawn Burton, the 1890 Engagement Coordinator, and Maggie Grandon, the 1994 Engagement Coordinator, provide support to the 1890 and 1994 teams participating in the EXCITE project. They have secured valuable input from their regions in every decision made for the project. Dawn and Maggie represent their regions when planning Excite events, making decisions about extra funding, and discussing project barriers and what resources are needed. Through Dawn and Maggie, Excite projects from the 1890 and 1994 regions have a direct line to the national program team.
Recently the EXCITE program team reflected and brainstormed on what was working for the EXCITE program, what could be improved, and what might be done differently. When discussing "what worked" and what we would repeat in future system-wide endeavors, Engagement Coordinators were high on everyone's list. They were necessary to the team from the recruitment to the implementation stages of the program. During this reflection discussion, Dawn and Maggie have made valuable suggestions that led the team to think about how projects could be made more equitable in the future, and how we can build more sustainable relationships with 1890 and 1994 institutions.
This interview shares part of our conversation and highlights how Dawn and Maggie's work as engagement coordinators is vital to the program team, and to moving diversity, equity, and inclusion forward in Cooperative Extension's system-wide projects.
In the conversation, we'll hear from the perspective of the two engagement coordinators and members of the National Program Team. You'll hear Dawn and Maggie speak about what projects and institutions have really inspired them in their roles, their regions' challenges in this project, and what system-wide programs can do to better recruit and build sustainability with 1890 and1994 institutions projects. We're also including testimonials from some 1890 and 1994 EXCITE project members about the positive impact Dawn and Maggie have had on their projects in the last year below!


"What I enjoy about Dawn is the ease that she engages with you whenever a concern may arise. In addition she checks in on you and also makes follow-up calls. Another plus is that she works at an 1890 institution and relates to the environment as well as the issues and concerns. She recognizes that we may work across multiple program areas."
-Dreamal Worthen, Florida A&M


"Dawn makes this project work! This is a very new field of subject matter with new partners and a different way of doing things that I needed help to navigate successfully. Dawn was there at the right time with the support I needed to make it through to the next step. I couldn't have gotten this far without her encouragement and guidance."
-Mark Belvins, North Carolina AT&T

"Maggie has been a great voice for the 1994s in the EXCITE program, always ensuring we are included and provided with the same resources and opportunities. She advocated well and was always available if we had questions. She ensured that the great work that was being done in Native communities did not get brushed aside but was highlighted."
-Brian Kowalkowski, College of Menominee Nation


"I have been working with Maggie for the past year. I am impressed with her ability to find information quickly, and her excellent communication skills. She has been very supportive to us and I hope to work with her again in the future."
-Charles Kreber


"Ms. Dawn Burton has been amazing in assisting me with my EXCITE 1 project. She made herself available to all my questions and concerns in applying for the grant and once it was awarded, she aided in questions around implementation of the grant. Her patience and willingness to seek out information in areas of the grant that were not a part of her job showed her commitment to me being successful in this project. I look forward to continuously working with her on EXCITE1 and EXCITE 2 grants."
-Rita Fleming, Tennessee State
I hope you enjoy this conversation. Many thanks to Maggie Grandon and Dawn Burton for joining and sharing their perspectives! Listen HERE!