The SR-PLN PSD Committee is teaming up with the University of Arkansas System Division of Agriculture to host a monthly Leadership Lunch and Learn webinar in 2023. The Leadership Lunch and Learn Book Review Series, features leadership experts from across the southern region. All webinars will be hosted on the last Wednesday of every month at 1:15 – 2:00 PM (EST) / 12:15 PM – 1:00 PM (CST). Webinars will be hosted and recorded using Zoom webinar, and recording links will be shared.
Presenters will review a different leadership development book each month. As busy professionals, we often hear different leadership development books mentioned or quoted, and we always intend to read the books, but we never get the time to do so. The Book Review series will give you the opportunity to hear the cliff notes version of many popular leadership development books.
The first book review will be on Good to Great by Jim Collins reviewed by Dr. Julie Robinson, associate professor-leadership, Arkansas Extension on January 25, 2023 from 1:15 – 2:00 PM (EST) / 12:15 – 1:00 PM (CST).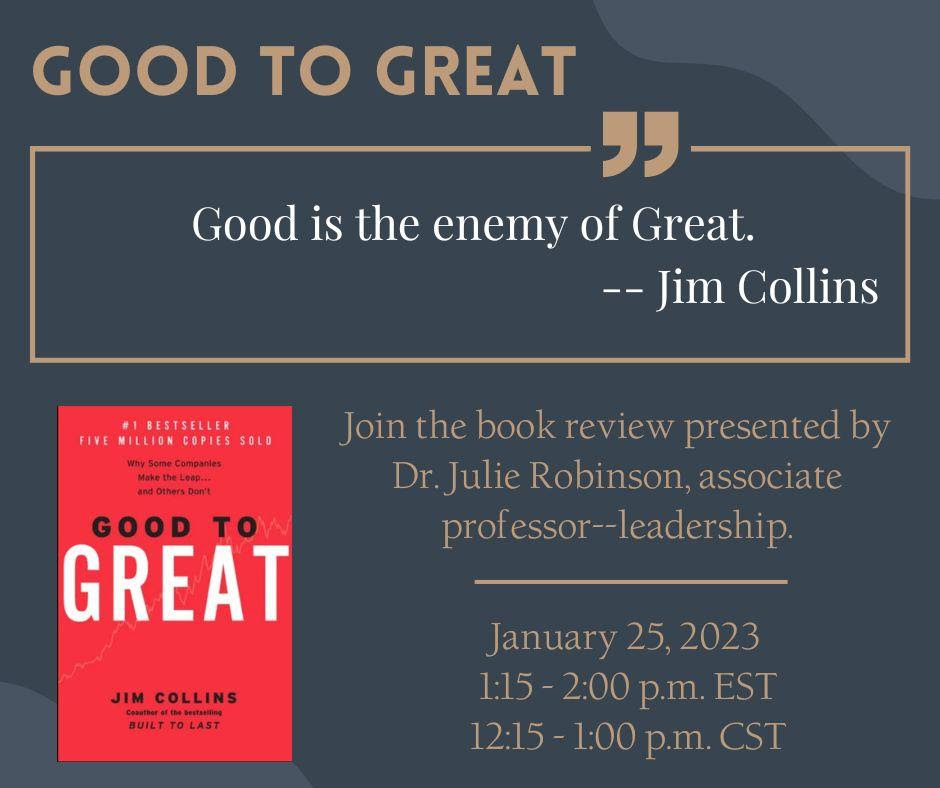 ---
2023 Leadership Lunch and Learn Book Review
SCHEDULE
1:15-2:00 EST | 12:15-1:00 CST
Date

Book

Reviewer

February 22, 2023

Start with Why

Cheryl Newberry

Oklahoma State University





March 29, 2023

Dare to Lead

Brandi Berven

University of Tennessee

April 26, 2023

Triggers

Tia Gregory

Mississippi State University

May 31, 2023

Tribe: On Homecoming and Belonging

Dr. Kristi Farner

University of Georgia

June 28, 2023

The Burnout Epidemic

Dr. Rochelle Sapp

University of Georgia

July 26, 2023

The Four Agreements

Karl Bradley

Extension Foundation

August 30, 2023

Leader's Eat Last

Dr. Hunter Goodman

University of Arkansas System Division of Agriculture

September 27, 2023

It's the Manager

Dr. Tearney Woodruff

Texas A&M

October 25, 2023

Collective Genius

Dr. Matt Benge

University of Florida

November 29, 2023

Essentialism

Dr. Lauren Griffeth

University of Georgia
---
Julie Robinson

Associate Professor-Leadership

Community, Professional

& Economic Development

University of Arkansas

System Division of

Agriculture

Cooperative Extension

Service

501-671-2082

Lisa Davis

Program Associate-Leadership

Community, Professional

& Economic Development

University of Arkansas

System Division of

Agriculture

Cooperative Extension

Service

501-519-5472