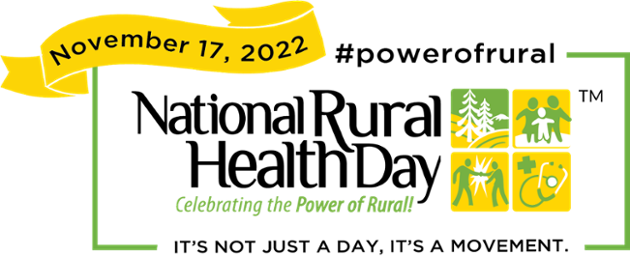 On National Rural Health Day, we celebrate with the #CDC the #PowerofRural, and the many programs and professionals striving to protect rural communities' health through Extension programming and resources! The Extension Foundation is proud to support the critical work many programs are doing to bring health resources, tools and education to rural communities.

Below are projects supported by the Extension Foundation that show the impact Cooperative Extension is making in rural communities across the country.


The SEED Method - Engaging Martinsville Podcast Interview
In this episode of the Connect Extension Podcast, we hear from a team of Cooperative Extension professionals and health partners who formed an opioid epidemic response group to address the epidemic in this community. Dr. Emily Zimmerman from Virginia Commonwealth University, Dr. Carlin Rafie from Virginia Tech, and community health partner Dawn Moser from the "Engaging Martinsville Community-Academic" research team

talk to us about the methods, outcomes, and successes.
Making Remote Work Publication- Utah State Extension's Remote Work Program
This publication shares the story of Utah State University's Rural Online Initiative (ROI), a training and certification program launched in 2018 to boost the capacity of program participants to be effective remote workers. Since its launch, more than 300 rural residents have secured employment after completing the Master Remote Work Professional (MRWP) certificate course. It's anticipated that several hundred additional MWRP graduates will find work this year.
Building Farm and Farm Family Resilience in our Communities: A Guide for Extension Professionals to Engage Strategically
This is a guide to help Extension professionals ability to reduce risk and stressors and increase the resilience of farms and farming families within the context of a socioecological framework. The guide was created to help professionals think and act through a research-based, theory-informed, multidisciplinary approach to addressing problems and issues, and creating solutions.
Extension Collaborative on Immunization Teaching & Engagement (EXCITE) Dashboard
The CDC has recognized that a strength of the partnership with Cooperative Extension in the EXCITE project is the system's ability to target rural and medically underserved communities.

EXCITE is successful because Extension is a trusted messenger of health information in rural communities and can reach

vulnerable populations where they are and engage them in meaningful conversation. See the EXCITE interactive Dashboard that displays data of the 72 "Education" programs and 24 "Pilot Projects." The Dashboard data and videos communicate EXCITE's reach, value, and story.


November Program Center Stage: Using Digital Dashboards to Improve Program Implementation and Evaluation
Register for the November 28th Program Center Stage Session led by the University of Missouri team, where they will outline their strategy used to manage and evaluate complex mental and behavioral health initiatives for farmers and rural communities. The session will highlight the processes and tools used to help a large, multidisciplinary team coordinate access to program assets, improve data collection, and report impacts and outcomes. Program Center Stage is a monthly professional development webinar hosted by the Extension Foundation and open to all!