ECOP, through an Interagency Agreement with the USDA and CDC, funded the Cooperative Extension System to address Immunization education in rural and medically underserved areas through the EXCITE program through two national projects, Vaccine with Confidence and Pilot Project Adult Immunization Education. The Extension network being a trusted and reliable resource for communities was a key factor in being selected by the CDC as a partner. 72 Land Grant Universities were selected, representing 1862, 1890, and 1994 institutions. Target audiences included Agriculture workers, faith-based communities, low resources families and communities, tribal communities, and communities of color.

After 12 months of vaccine education and outreach, EXCITE's Vaccinate With Confidence for COVID-19 (Activity 1) projects are at the end of their grant! April is the last project month for teams not seeking a no-cost extension. The EXCITE program team and partners are proud of what teams have accomplished, and the resilience displayed to persist in this work. Despite the many barriers of the past years, like vaccine hesitancy, changing protocols, new COVID-19 variants, and pushback from communities, teams forged ahead in their projects creating new community healthcare partners, educational assets, and engagement activities, to help the EXCITE project reach over 9 million people and administer 25,492 immunizations (as of March reporting numbers)! These teams made up the boots-on-the-ground effort of a new system-wide program for Cooperative Extension.


The April Spotlight was the last time all of the grantees would be attending an EXCITE event, so Alexi Piasecki from the CDC joined to give a presentation to celebrate the end of the grant year and all that's been accomplished. The presentation captured the many facets of EXCITE's work and how it fits into the national response efforts. It was a huge encouragement to EXCITE teams to continue their valued work. Continue below to see highlights of Alexi's presentation. Great job, teams!
View the recording of the CDC presentation here, and read the outline below.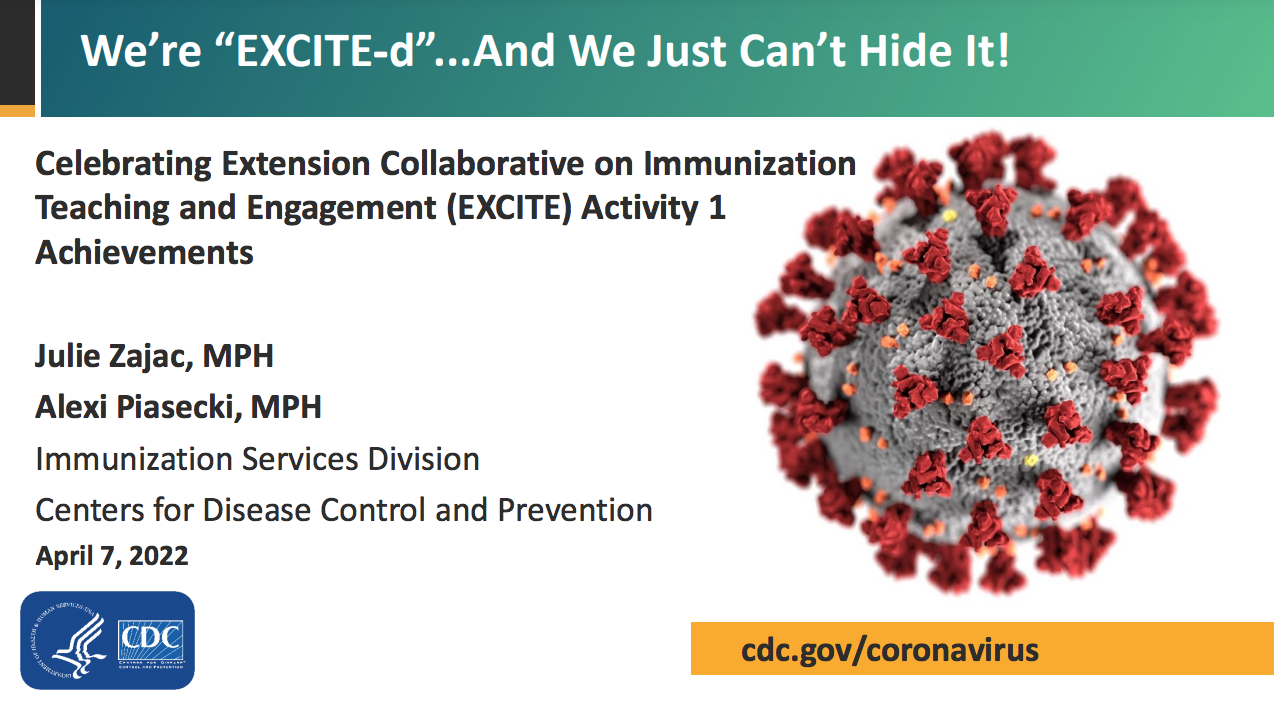 ---
Why did CDC Partner with Extension?

One of a few partners who specifically targeted rural and medically underserved communities.
You are trusted messengers represented in almost every county across the US.
And you can reach the most vulnerable populations (migrant farmworkers, communities of color, rural) because you are able to meet people where they are and engage them in a meaningful conversation.


Highlighting Extension's Unique Ability in This Work

Able to reach diverse populations
The ground game- Extension is on the front lines, experienced pushback, and persevered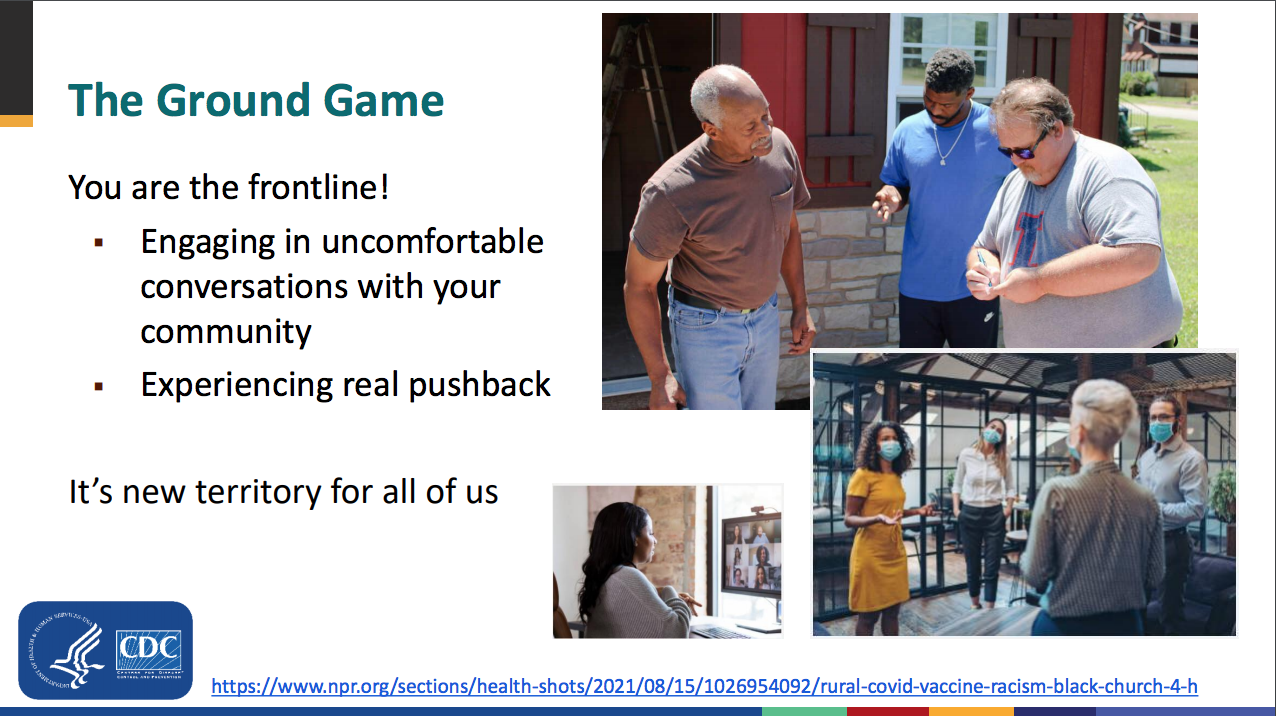 ---
COVID-19 Vaccination – What We've Accomplished


131,148 events
730 Vaccination Clinics
25,492 Immunizations

Improved trust in vaccinations

Improved perceived vaccine safety

Improved perceived importance of vaccines for preventive health and disease prevention

Improved social norms emphasizing the importance of vaccinations

Increased number of individuals vaccinated

Decreased barriers to vaccinations








---




As A1 is Ending- Where do We Go from Here?

Using Extension to reaching Rural Populations = Our "Last Frontier"

▪ Have residents who are more likely to report less access to health care and lower quality of health care and have higher rates of cigarette smoking, hypertension, and obesity.

Creating new partnerships and bringing the patient to the vaccine the provider is the first step

Leveraging partnerships for health and well-being programs

Building on the COVID-19 Vaccination program



Thank you to Alexi Piasecki and Julie Zajac for being the CDC partners to the EXCITE program and for giving this excellent presentation! See our website for updates on the end of our program and explore the Dashboard for more details